Last week I was in Belfast for the Museum Computer Group's Spring event, 'Engaging Visitors Through Play', fabulously organised by Alan Hook (Lecturer, University of Ulster) and Oonagh Murphy (MCG Committee member and PhD Researcher, University of Ulster) with support from the MCG Committee, and hosted by the University of Ulster's Centre for Media Research.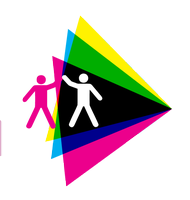 Like other recent MCG event reports, I'm also writing as the Chair of the group, so you may think I'm biased when I say it was an excellent day with great speakers, but if I am at all biased, I promise it's only a tiny bit! I've posted my talk notes at 'Digital challenges, digital opportunities' at MCGPlay, Belfast.
The MCG's Spring Meeting is an opportunity to take a wider theme than our annual Museums on the Web conference (which as the name suggests, is generally about things that touch on museums on the web). This year's topic was 'Engaging Visitors Through Play', with presentations on playful experiences from site-specific theatre, rapid prototyping and hack days, big budget and experimental games. The event was an opportunity to bring museum staff and researchers together with game and interaction designers, and the 'regional showcase' of lightning talks about projects from local practitioners further helped introduce people to the great work already going on in Northern Ireland and hopefully start some local collaborations. As Alan pointed out in his introduction, it was also a chance to think about the impact of research and start conversations between museums and academia.
The first session after my talk was 'Play: A Northern Ireland Showcase' and began with Lyndsey Jackson (@LyndseyJJackson) of Kabosh talking about 'Immersive Theatre and Digital Experience' and their site-specific theatre company. Their material is the buildings, people and stories of Northern Ireland and they work with unusual spaces – anywhere but a theatre. They're dealing with two interesting constraints – the stories of buildings might be complicated, contested or difficult, and while they want to give audiences the chance to navigate an experience for themselves, they're aware that 'theatre is a game – it has rules, boundaries, you can bend them but it confuses people when you break them'. In a lovely departure from some museum experiences, they don't try to give their audiences all the answers – sometimes they want to give people some information in a way that starts them asking questions so they have to look things up themselves if they want to know more. I wish I'd had longer in Belfast to see one of their shows or try 'Belfast Bred'.
Oonagh (@oonaghtweets) presented some results from her audit of the online presences of museums in Northern Ireland and the question she set out to test: that professional development hack days can help the sector. Find out more at her MW2013 paper on 'This is Our Playground'; but one fascinating snippet was that museum studies students are quite conservative, 'museums have rules for a reason', and take a while to warm to the concept of prototyping. Alan (@alan_hook) talked about MYNI photo competition, asking 'is Northern Ireland ready for play in these spaces?', games that work with 'civic pride', the realities of designing mobile experiences around 3G coverage and expensive data plans, and shared some reflections on the process, including his questions about the ethics of crowdsourcing images and the differences between academic and industry timelines.
The next session was 'Games: Best Practice and Innovative Approaches'. First up, Sharna Jackson (@sharnajackson), czar of Tate Kids, presented on the past, present and future of play at Tate. She pointed out that games can bring in hard-to-reach audiences, can be a gateway to engagement with deeper content, and can be a work of art in themselves. I loved her stance on web vs device-specific apps – while tablets are increasingly popular, their aim is to reach wide audiences so jumping into apps might not be right choice for limited budgets. Her lessons included: know your audience, what they expect; start playing games so you know what mechanics you like so you've got context for decisions and so you get what's great about games; your mission, content and goals all influence what kinds of games it makes sense for you to make; if planning to let users generate content, you need a strategy to manage it. Be clear about what games are – respect the medium.
Danny Birchall (@dannybirchall) of the Wellcome Collection talked about 'Truth and Fact: Museums and Public Engagement, including the High Tea evaluation's findings that 'piracy is the most effective form of distribution' so designing games to be ripped or seeded on portals can help achieve wider goals. He also talked about the differences between history and science games, as well as some of the unique hazards of working in museums with large, closely related collections – one memory game was 'punishing you with intense sense of similarity of items in Henry Wellcome's collection'.
The final presentation in the session was Alex Moseley on the educational potential of low budget games. His talk included a tiny taster of alternative reality gameplay and discussion of some disruptive, slightly subversive elements of ARGs you could use independently. His seven step process: identify key concepts or constraints want to get across; situate them in real activities; think of a real problem or challenge; add narrative to deepen the context; create a prototype; test it with colleagues/visitors; refine, retest and release. He also raised some challenges for museums: if players suggest something good in an ARG, it could be incorporated and effect the outcome – but this might be tricky for museums to manage with limited resources.
One interesting test that emerged from the panel discussion was whether something was 'Belfast good'. As Oonagh said, 'Is this good or is it 'Belfast-good' because if it's Belfast-good, then not good enough'. Asking whether a project is 'museum good' or 'academic good' might be a useful test in the future… The session also lead to 'chocolate covered broccoli' references overtaking 'gamification' as the new buzzword bingo winner.
The lightning talks covered a range of interesting projects from local organisations, in part with the idea of helping start local conversations. Some of the projects we heard about from @takebackbelfast, @stephentshaw, @designzoo and @Lancorz were really inspiring and just plain cool. It was also refreshing to hear outsider's perspectives on what museums do: one guy said 'people bring their own knowledge, experiences and devices to museums – why do you need big interactive installations?'.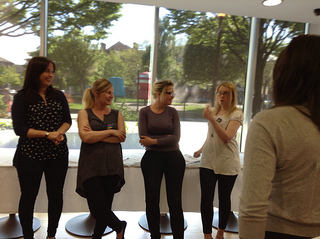 The day finished with a twenty minute play test of Alex Moseley's 'curate-a-fact' game then we headed off to the pub for some well-deserved #drinkingaboutmuseums.
The MCG usually holds its Spring Meeting somewhere outside London, but it's a long time since we've been in Belfast – it might have been a long time coming, but Belfast did themselves proud. I was really encouraged by the excellent work going on in the region and the creativity and energy of the people and projects in the room. Huge thanks to all the participants, chairs, speakers and organisers for putting together a great day!
Thanks to the university, we were able to (mostly) live stream the talks, and had people watching at their desk in Leicester or London and even from a train in New York! We also had a live tweeter @JasonAPurdy on the @cmr_ulster account plus loads of tweeters in the audience to help capture the day. Alex has also posted his thoughts on 'Engaging Visitors Through Play' – well worth a read.