I've finally had a moment to catch up and post the first part of my notes from Museum/iD's conference, Museum Ideas 2012 – Museums in the Era of Participatory Culture. Overall it was a great conference that left me with a lot of things to think about for how museums can adapt and thrive in the current international context, and reminded me why museums should survive: they matter. I've posted my thoughts from the later sessions at Why museums matter: 'Museum Ideas 2012 – Museums in the Era of Participatory Culture' with a short summary of the whole event at the start.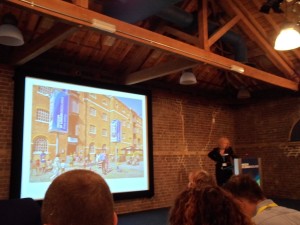 Sharon Ament's keynote at Museum of London Docklands
The day was chaired by Ben Gammon who began by pointing out that innovation is no longer a luxury, it's now critical for survival.
The keynote speaker was the new Director of the Museum of London, Sharon Ament, who spoke on War, Plague and Fire: museums and libraries in the era of participatory culture. Previously Ament was director of public engagement at the Natural History Museum, and she drew on that background in her talk while also relating it to the collections of the Museum of London and the docklands location of the conference. She called for museums to look at what participatory culture means to the people they serve, especially when the individual has the capacity to be heard more loudly than ever before. The international context in which we're living – with civil unrest, economic crises and global warming – is a time of change and fear means that adaptation to the external environment is an important concept for museums today. Her talk, and some of the discussion afterwards, focused on the role of museums and libraries as venues for independent discovery; accessible to many because entry was free. She suggested that creative responses – small things that can happen spontaneously, like the 'pop-up' concept – might be useful for reaching people.
One final quote to close, from the Salzburg Global Seminar and the Institute of Museum and Library Services report on 'Libraries and Museums in an Era of Participatory Culture': 'technology is a tool, not an objective, and that the creation of increased public value is the end goal. Identifying stakeholders' needs means addressing human relationships, a sense of organization, and an intellectual construct to shape information and access'.
The next session was a 'fireside chat' with Rob Stein (Dallas Museum of Art) and Seb Chan (Cooper-Hewitt Museum) reflecting on 'Bootstrapping Innovation in Museums' and their experiences in changing museums. They discussed collaboration (Stein noted that everything he's built that's had a modicum of success has been a collaboration with lots of people), the pace of change in different museums (including the need to build a risk-tolerant culture), and the risk of assuming that technology is an inherent part of innovation (Stein observed that the change that needs to happen at DAM is cultural, about shifting ambition). How do you create a culture of innovation? Chan mentioned Elaine Heumann Gurian's Wanting to be the Third on your Block and said that the first thing he did when he started at the Cooper-Hewitt was create a space that gave people permission to change. He set up 'labs' as a space for people to talk about stuff, which also gave his immediate team a public voice for the first time. He pushed fast to get quick results on some straightforward things to start to set an expectation of speed and accelerate culture: 'right now, doing things fast matters more than doing things well'. He talked about cultivating rogues and tricksters in the museum to accelerate change and get a paradigm shift and suggested tackling root problems rather than symptoms for issues like copyright. They also discussed how to play up the fun of museum jobs to make them more attractive in a competitive tech jobs market, and the importance of putting some money into innovation where possible. Stein suggested that it's possible to support innovation without a budget, e.g. museums can hold 'research forums' where people share what they're working on.
Chan also said museums have turned themselves into 'exhibition farms', letting them suck huge amounts of resource; together with the obsession with 'finish' this slows innovation that could come from re-thinking how exhibitions and public programmes work together. Stein observed 'museums seem to like gargantuan problems, things that take five years to get out the door [like] exhibitions, publications, buildings.'
They discussed the mismatch between museum exhibition launch models and software models: 'people want to feel that something's finished when it launches, they want the party and the holiday'. But in software development, no-one takes a holiday straight after launch because they're watching what people do with the new software. [I was really interested in this section as it's something I've thought about a lot (e.g. does a museum's obsession with polish hinder innovation?) – I suspect museum technologists have two clashing mental models about how to work: one is the web agency model, based around cycles of 'launch, observe, iterate, update'; the other is the 'long slog to an unmovable launch date then onto the next project' of museums. When the rest of the world moves on the agile, iterative model, it's frustrating being tied to the museum model, particularly when it seems to have more flaws than benefits for modern audiences.] In closing they talked about the effectiveness of various models of innovation, whether attempts at top-down innovation, departments of innovation or more integrated models of innovation.
This post is already quite long, so I might hit publish now and come back to the other talks later.
Disclosure: my ticket was provided by Museum/iD.